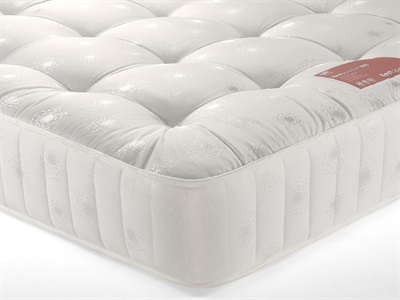 Restopaedic Restapocket 850 Pocket Sprung Mattress (£182.75) from Mattressman
Medium Firm, Pocket Sprung, White Filling, Free Next Day Delivery
Available in Single | Small Double | Double | King Size | Super King
Description
Pocket springs
This mattress contains 850 pocket springs which move individually, giving the feeling of extra support when they move with the contours of your body. Such a design has many benefits, supporting major joints like the shoulders, hips and knees, alongside promoting the natural form of your spine. Even better, the Restapocket 850 supports individual sleepers, meaning you will not feel your partner moving around at night.
Medium firm mattress
Typically, medium-firm mattresses are designed with back-care in mind. They maintain a higher tension in the springs and they're packed in more densely too. Medium-firm mattresses can be the way to go if you're a little heavier as they support your main joints.
If you're looking for a mattress that gives you enough support without sacrificing comfort, the Restopaedic Restapocket 850 Mattress could be the answer. The mattress offers an exceptional spring system alongside traditional hand tufting and hypoallergenic fillings, discouraging pesky dust mites and mould. Due to the mattress being two-sided, it means that it's designed to be flipped over in order to prolong its life. Made in Britain, this mattress ticks the quality boxes.
---
Best Most Polular Mattress on Amazon
You May Also Like